Short Term Care
See our services available for Short Term Care.
MarketPulse™
This document library will keep a pulse on the market by providing access to thousands of insurance documents. Our multifaceted approach to document collection spans the needs of your enterprise. From product development and pricing to applications and marketing material, we offer key categories to allow for one tool to give you the competitive intelligence you need. Search and download documents by product line, type of document, company, state, and date range. Set customized alerts with your document search criteria to have updates sent directly to your email.
Agent Database
CSG Actuarial has compiled a robust database of agents using our proprietary scoring methodology, which will allow you to target agents by the products they sell and the companies they write for. With new agents entering the market all the time, we are constantly refreshing our agent database to make newly licensed agents available to you. Customize your list with the companies of your choice, and specify products the agents are licensed to sell from including: Medicare Supplement, Medicare Advantage, Final Expense Life, Accident, Dental, Cancer, Life & Annuity, Long Term Care, and Hospital Indemnity.
Competitive Intelligence Guide
Evidence shows that baby boomers and insurance producers recognize the importance of nursing home and home healthcare service coverage. CSG Actuarial's comprehensive Short Term Care Insurance Guide provides detailed information on the carriers competing in the Short Term Care market, including benefit designs, underwriting criteria, and premium rates. This guide is especially beneficial to companies entering this market or trying to grow market share.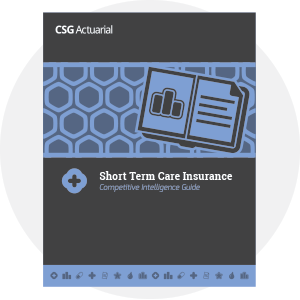 Market Opportunity Report
Are you considering entering the Short Term Care market, but aren't sure where to begin? CSG Actuarial's Short Term Care Market Opportunity Report can help.
The Market Opportunity Report provides a big picture analysis of the market. The report includes sections on product structure, distribution, underwriting process, regulatory environment, risk management, profitability and retention, and includes a competitor snapshot (premium, claims, inforce policies), and a market projection. The market projection provides a projection of premium, inforce policies and new sales premium.