Hospital Indemnity
See our services available for Hospital Indemnity.
Quoting Tool, Mobile App, & Custom Tool
CSG Actuarial's MarketAdvisor suite of quoting tools makes it easy for everyone from independent agents to large companies to have access to accurate, up-to-date pricing and plan details for premier senior market products such as: Medicare Supplement, Medicare Advantage, Final Expense Life, Hospital Indemnity, and Dental. Access the data you need in our web-based subscription tools.
Custom Tool
Provide your agency with a competitive edge with the latest rates, underwriting, and plan details. Customize your quoting tool with the products, carriers, and states you need, with your logo and agency information.
Mobile App
Let CSG Actuarial develop your custom mobile quoting app to give your agents the ability to quote on the go from their phone or tablet. We will build and maintain an Android and iOS applications branded for your agency, including the products and states you need.
Data Feeds & API Access
Stay ahead of your competitors by having the latest rate and underwriting data delivered when you need it. Choose to either use our API to access data in real time, or receive files directly to your inbox. CSG Actuarial's customizable data feeds are used by many of the industry's leading companies across product lines including: Medicare Supplement, Final Expense Life, Hospital Indemnity, and Dental. Select the data you need with the states and carriers of your choice.
MarketPulse™
This document library will keep a pulse on the market by providing access to thousands of insurance documents. Our multifaceted approach to document collection spans the needs of your enterprise. From product development and pricing to applications and marketing material, we offer key categories to allow for one tool to give you the competitive intelligence you need. Search and download documents by product line, type of document, company, state, and date range. Set customized alerts with your document search criteria to have updates sent directly to your email.
Agent Database
CSG Actuarial has compiled a robust database of agents using our proprietary scoring methodology, which will allow you to target agents by the products they sell and the companies they write for. With new agents entering the market all the time, we are constantly refreshing our agent database to make newly licensed agents available to you. Customize your list with the companies of your choice, and specify products the agents are licensed to sell from including: Medicare Supplement, Medicare Advantage, Final Expense Life, Accident, Dental, Cancer, Life & Annuity, Long Term Care, and Hospital Indemnity.
Competitive Intelligence Guide
As the Hospital Indemnity Insurance market continues to grow, look to CSG Actuarial's comprehensive Hospital Indemnity Insurance Guide for all your competitive intelligence needs. This guide features company information, expert analysis, underwriting requirements, and premium rates – specifically for the Hospital Indemnity Insurance market.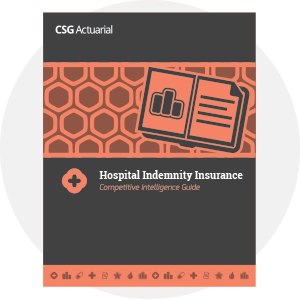 Market Opportunity Report
Are you considering entering the Hospital Indemnity market, but aren't sure where to begin?  CSG Actuarial's Hospital Indemnity Market Opportunity Report can help.
The Market Opportunity Report provides a big picture analysis of the market. The report includes sections on product structure, distribution, underwriting process, regulatory environment, risk management, profitability and retention, and includes a competitor snapshot (premium, claims, inforce policies), and a market projection.  The market projection provides a projection of premium, inforce policies and new sales premium.